Highways to Active Learning:
New Roads Towards Engaging Our Students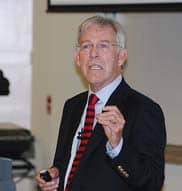 The concept of "active learning" has guided efforts at improving university teaching for over three decades. During that time, new tools and technical advances have greatly expanded the means we can use to attain this common goal. These include training teachers more fully in "active teaching," making the classroom more inclusive, and taking better advantage of tech tools such as "clickers" that record class responses and "flipping" large classes from being the site of imparting information to being the place where that information is debated and analyzed.
In addition, research into student misconceptions and greater awareness of the advantages of activities such as group work have helped to foster new, broader definitions of learning.
Our choice of theme for this year's 38th International Conference on Improving University Teaching reflects the need to take stock of our progress to date and to identify barriers that continue to slow our advance along the road towards realizing the promise of active learning. In the future, new discoveries may play a less important role in promoting active learning than will expanding the adoption of what we already know. Thus the conference will also take a look at the role of teaching centers in disseminating current best practices.
Six sub-themes underlie the overall topic:
The Inclusive Classroom
Increasing Student Involvement
Advances in Instructional Technology
"Active teaching"
Effective Teaching Centers
New Research on Learning Outcomes